Standards: Ind., OSHA, ANSI
Standards for the safe manufacturing, installation, and operation of compactors are governed by the ANSI Z245.2 industry standards. These guidelines are developed by the industry and it is the responsibility of each manufacturer to interpret and enact these standards. SP Industries is proud to be a part of this process by providing both past leadership and current participation in this group. Denny Pool, our president, had served as the chairman of the compactor committee from 2002 through 2018. We continue our participation annually by working with the great minds of the safety committee to develop best practices and promote safe equipment operation throughout the industry. Our commitment to quality, safety, and value are traditions that we hold dear.
For the latest release of the Stationary Compactors - Safety Requirements for Installation, Maintenance, and Operation (Z245.2) as presented by ANSI, please click the link at the bottom of this page. SP Industries provides a hard copy of this standard with each piece of equipment we manufacture. Also, we recommend that you be familiar with current OSHA guidelines for safe machinery operation. You can learn more about OSHA by visiting their website at: www.osha.gov . Your local community, state, or other governing body may also have regulations pertaining to operation of this machinery. It is important that you review the safety information that comes with your machinery and with the safety supervisors at your company.
If you have questions about the safe operation of your SP Industries machinery, please contact us and we will help you find the answers you need to use our equipment safely. Never use a machine that you believe to be unsafe. Remember, you are the first step in the safety process and it is your responsibility to operate and maintain a safe working atmosphere.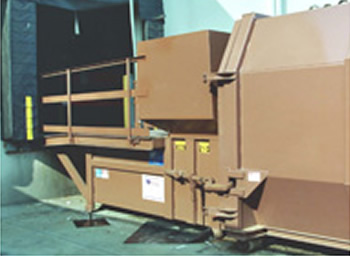 Stationary compactor with walk-on loading deck.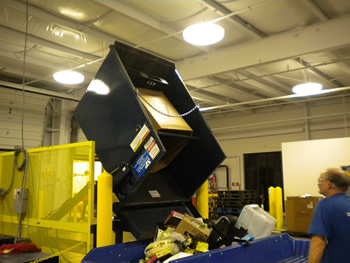 Cart tipper emptying trash.
Enclosed extended height bin dumper, with elevated hopper and compactor for trailer transport.
Large capacity pre-crusher with loading hopper.