Industrial Trash Compactors
Industrial Trash Compactors
Industrial Trash Compactors Handle Heavy to Severe Duty Applications
Industrial trash compactors are designed to handle high volume wet or dry materials, as well as large, heavy materials including wooden skids and crates, scrap process material, and packaging material.
Industrial trash compactors are typically installed in "around the clock" manufacturing plants, institutional facilities, high volume retail outlets and warehouses.
Industrial trash compactors are recommended for installations requiring one pull or more per day
15 models range in capacity from 2 to 13 cu.yds.
Choose the right industrial trash compactor for your application:
Why you should consider a Dual Cylinder Compactor. See the benefits here.
Contact SP Industries to discuss the right industrial compactor and combination of options for your application
…or talk with a sales engineer
1.800.592.5959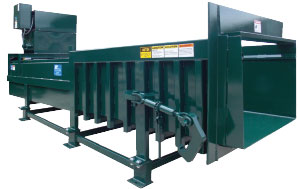 Compactor Design Guide
Functional comparisons
Construction designs
Sizing and selection
Structural, control & power unit design features
Click to Download
Recommended For:
Corrugated Material Only
Grocery Stores
Industrial - Light
Industrial - Heavy
Institutional
Retail Outlets - Large
Transfer Stations
Warehouses