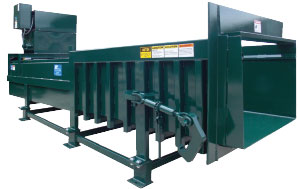 Why is SP Industries Waste Handling Equipment & Compaction Systems Your Best Value?
SP Industries builds machines to last, and to perform the heavy-duty job you need done. We design and manufacture a comprehensive standard line of industrial and commercial grade compactors, pre-crushers, transfer station equipment and cart dumpers to meet small-to-large capacity operations.
We also specialize in a wide variety of application-tailored systems to handle wet waste, food products, metal scrap collection, fluid recovery, newsprint recycling and other difficult and/or voluminous materials.
Most industrial trash compactors and cart dumpers on the market may look roughly the same, but ours are truly built better. Our use of structural steel in place of formed steel, work hardening steel, advanced performance hydraulics and electronic controls are just a few of our superior design features that set us apart.